Free Movie Night
When:
February 14, 2020 @ 7:00 pm – 9:00 pm
2020-02-14T19:00:00-05:00
2020-02-14T21:00:00-05:00
Where:
Exeter Bible Fellowship
187 Huron Street West
Exeter
Ont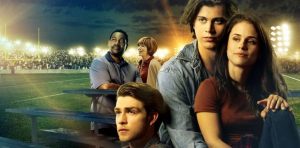 Come and see the movie
"Run the Race"
Friday, February 14, 2020 at 7:00 p.m.
FREE ADMISSION AND POPCORN
Bessemer, Florida, doesn't have much to offer the Truett brothers. At least, not anymore.
After their mom's tragic death, high school seniors Dave and Zach Truett have tried to piece their lives back together, but it's not been easy. Their father, Mike, left home and turned to the bottle to numb his pain. And the boys? Well, they're working on their own things.
Dave is strengthening his faith as he recovers from a previous, life-threatening injury. And Zach? He's an All-State football star, pouring his time, passion and energy into a game that he hopes will be the two brothers' ticket out. But after Zach injures his knee badly in a brawl, Dave is forced to find an alternative escape from Bessemer. Now, both brothers must work together to truly break free from their painful shared past.
"There are only two ways you can be running … to God or from God."